Movistar Yamaha MotoGP Team's Valentino Rossi and Maverick Viñales made headlines in Indonesia after a small 'pre-MotoGP-season media tour'. The riders took time to visit some of their fans and the Indonesian media at Yamaha Indonesia Motor Manufacturing (YIMM)'s dealer meeting in Jakarta and Viñales also paid a visit to the Sentul International Circuit.
Following the Movistar Yamaha MotoGP Team launch in Madrid, Spain, Valentino Rossi and Maverick Viñales headed straight to Indonesia for a quick stop at the Yamaha Indonesia Motor Manufacturing (YIMM)'s dealer meeting, which is one of the biggest assemblies in the world among Yamaha distributors.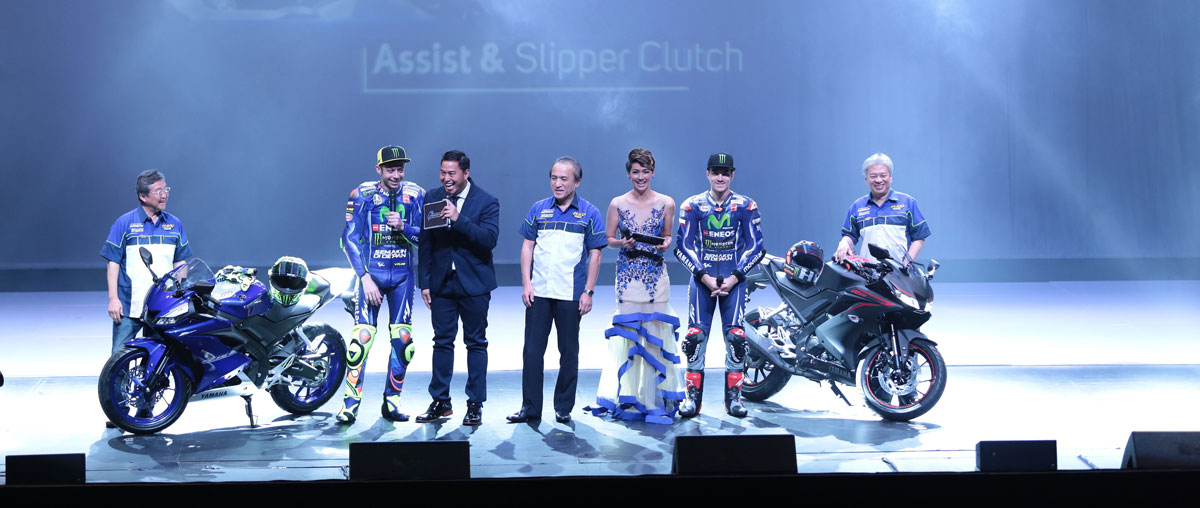 The event consisted of multiple interviews, meeting competition winners, photoshoots and an on stage presentation of the Yamaha All New R15, with the riders joined on stage by Yamaha Motor Co., Ltd's President, Hiroyuki Yanagi.
The unveiling of the All New R15 was an exclusive as the new model is first introduced in Indonesia before being launched globally. During this presentation Rossi got a chance to meet up with Yamaha VR46 Master Camp riders Galang Hendra Pratama and Imanuel Pratna, who spent two training weeks at Rossi's Motor Ranch in Italy last summer.
The passion for motorsport, and especially MotoGP, was evident in the enthusiasm of the media present at the dealer meeting and made the riders feel very welcome.
Always enjoying Southeast Asia, Rossi was eager to have a few days off after the event to further experience the region, while Viñales prolonged his tour in Indonesia. The Spaniard went on an excursion to the Sentul International Circuit where he got the chance to test the Yamaha All New R15 and the AEROX 155VVA together with selected VIP customers and Yamaha Indonesia Motor Manufacturing's President Minoru Morimoto. Though reluctant to leave the track, Viñales had to say goodbye to the All New R15 in the afternoon for a final media gathering, where he was showered with presents.
Viñales will now also have a short break before he makes his way to the Philippines to meet up with Rossi again on January 28th for some final media events, ahead of the first official IRTA Pre-season MotoGP test of 2017 in Sepang, Malaysia.
Sei interessato alla sponsorizzazione?
Parliamone!
Compila il form qui in basso per ricevere notizie e aggiornamenti sul mondo del marketing sportivo, o per richiedere una consulenza.
Un membro del nostro staff ti ricontatterà in pochi minuti.
Se ti è piaciuto questo articolo, condividilo