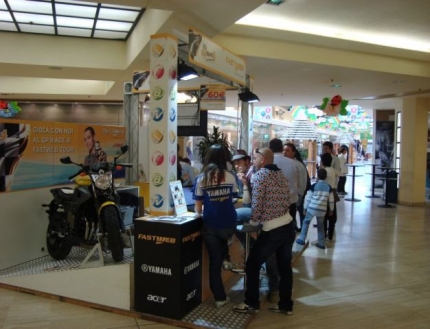 Project Info
Client:
Fastweb
Task:
GP Race 4 Fastweb tour
About Project
FASTWEB, one of Italy's major operators in broadband communications, was centrestage for the third year running of the Gp Race 4 Fastweb Tour, a travelling promotional event in 36 shopping centres, with 4 stands running concurrently across Italy, making a total of 108 days altogether. Once again the entire promotional operation was conceived and managed by RTR Sports Marketing.
In all of the arcades of the shopping centres involved, visitors were offered the chance to learn about the many new additions to the range of FASTWEB products which, in addition to its traditional phone, Internet and services, are supplemented by mobile telephony services, offering families a single, complete experience, at home or on the move.
Many surprises were in store for visitors to the stand, including the chance to win several prizes and instant gifts. In addition, those who signed up to a Fastweb service were entered in the draw for a Yamaha XJ6 motorbike handed over to the final winner by Valentino himself on the occasion of the Misano Grand Prix.
Besides Yamaha, underlining FASTWEB's strong ties with sport, the GP Race 4 FASTWEB Tour saw the participation of another prestigious partner, Acer, which supplied technological equipment for the stands.
The FASTWEB Tour achieved considerable success in terms of visitor numbers and an excellent image dividend, generating each weekend around 200,000 visual contacts and collecting information regarding thousands of potential customers in the target group. RTR, benefiting from extensive experience in promotional events in large-scale retail, has created a winning format which is now in its fourth consecutive year.