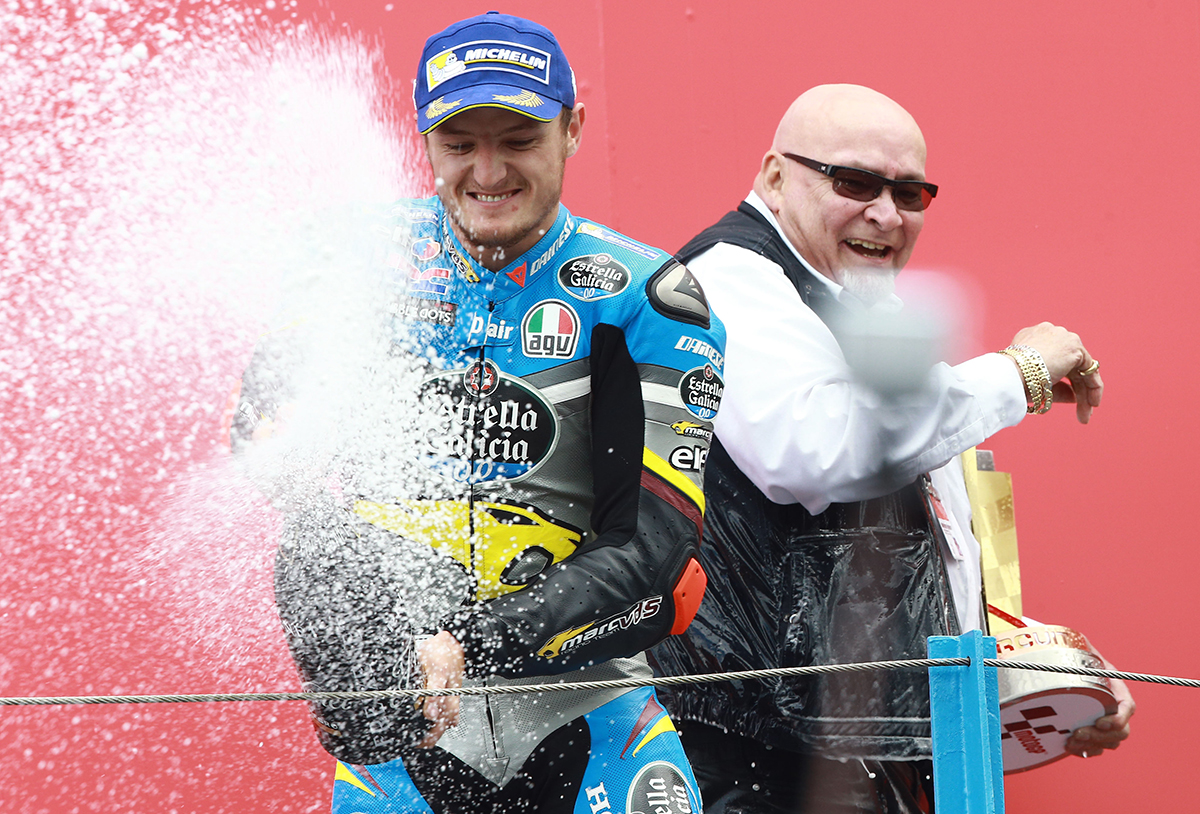 The 250th race of the modern MotoGP era will be one that Team Estrella Galicia 0,0 Marc VDS and Jack Miller will never forget, after the Australian claimed a remarkable maiden premier class victory at the historic Assen track.
Jack Miller overcame perilously tricky conditions on a weather-dominated afternoon at the Dutch TT to become the first non-factory rider in 10 years to win in MotoGP.
He also became the first Australian to win a MotoGP race since Casey Stoner in 2012 after a day of high drama and tension in front of a sell-out crowd of 105,000 fans in Holland.
Scheduled to be a 26-lap race that started on a wet track, Miller had expertly mastered the tricky track conditions to charge from 19th into eighth when the action was halted on safety grounds on lap 15 as monsoon conditions enveloped the 4.5km Assen venue.
Once conditions had improved and standing water was cleared from the track, the race was restarted over a shortened distance of 12-laps, with the grid forming based on positions from part one.
Conditions were no less hazardous in part two, but as experienced riders crashed out of contention, Miller rode a majestically measured and composed race to move into the top three on only the second lap.
A brilliantly executed overtake on Marc Márquez on lap four then put Miller at the front of the field.
And it was a lead he never looked like relinquishing, as he rode a faultless final eight laps to win by almost two seconds, sparking jubilant celebrations to mark the first MotoGP win by Team Estrella Galicia 0,0 Marc VDS since its premier class collaboration started with Honda in 2015.
Tito Rabat's Dutch TT was also a dramatic affair and he did an exceptional job to salvage 11th place to register his fifth point scoring finish of the campaign.
The Spaniard crashed on lap five in the 12-lap restart but demonstrated his never give up attitude by remounting to collect five important World Championship points.
Jack Miller: 1st
"I don't often say this but I'm lost for words. I feel incredibly emotional right now and it is hard to describe the sensation of winning for the first time in MotoGP. I felt confident and fast in the first part of the race but it was the right call to red flag it because the conditions were getting pretty dangerous. The track was really slippery for part two as well but I immediately felt comfortable. I could see a few riders making mistakes but I just kept my focus and concentrated on being fast and consistent without taking any silly risks. Once I passed Marc I just tried to block out the fact that I was heading for my first win and keep a clear mind. Coming out of the final chicane and seeing the chequered flag was just an unbelievable feeling. My family and I have made a lot of sacrifices to make today happen and it feels amazing. I can't thank Team Estrella Galicia 0,0 Marc VDS enough. They have given me incredible support and never stopped believing in me. I must also thank Honda and their management for giving me this opportunity and allowing me to show what I can do at this level. It might take a while to sink in but I am going to enjoy tonight that's for sure!"
Tito Rabat: 11th
"It was a very difficult race and tricky conditions but I am happy to score more points. In the second race I'd got into the top 10 and felt I had a very good pace. I'm not normally so confident in the rain conditions but I felt really comfortable. I tried to pass Bautista because I was quite a bit faster than him in the last two sectors but I carried a bit more lean angle at turn 11 and it was a huge mistake because I crashed. I was lucky to be able to rejoin the race and I'm happy to finish and gain a lot of experience of the bike, tyres and electronics in the race. I want to say big congratulations to Jack and the whole team for the victory today. He rode an unbelievable race and deserved his victory."
Michael Bartholemy: Team Principal
"I am not sure where to start after a day like today but it is hard to describe the range of emotions the whole team has gone through. Many people have worked all of their life to experience a day like today and to win in MotoGP, so now it has arrived the elation and emotion is something very special. I've been dreaming of this moment since I arrived in MotoGP in 2004 and sometimes you don't think it will happen. But we've continued to believe and to push at our maximum to make it happen, and I actually still can't believe it has! Congratulations to Jack because he was incredible today. Those kind of conditions always give an Independent Team a chance but you have to take the opportunity when it presents itself and Jack did exactly that. It was so easy to make a mistake but he was perfect. Those last few laps were so full of tension it was hard to watch at times, but to be the first non-factory team to win a MotoGP race since 2006 makes me immensely proud of the whole team. We've had a lot of criticism for taking Jack but I've never doubted his talent and we've shown the world today that together we can do great things. I must say a big thanks to Marc van der Straten for his energy and devotion to this project and to Estrella Galicia 0,0, Elf and Honda for their continued support. Let's hope this is the first of many wins.