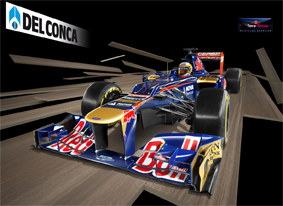 Company: Del Conca
Subject: Partnership with Scuderia Toro Rosso
Period: 2012
Thanks to the work and support of RTR Sports Marketing, DEL CONCA, a top company in the production of ceramic surfaces, has become the "official supplier" of Scuderia Toro Rosso for the entire 2012 Formula 1 season.
A passion for quality, a constant spirit of enterprise and striving for international excellence are the foundations on which this collaboration rests, thanks to which Del Conca gains visibility in the World's most famous motorsport championship, Formula 1, which touches 19 countries in 20 Grand Prix.
The famous ceramics company, in addition to seeing its logo appear on Scuderia Toro Rosso's official website, also uses the team's name, image and fame for its marketing operations. Use of the Show Car and tours of the Scuderia Toro Rosso factory are also available to Del Conca.