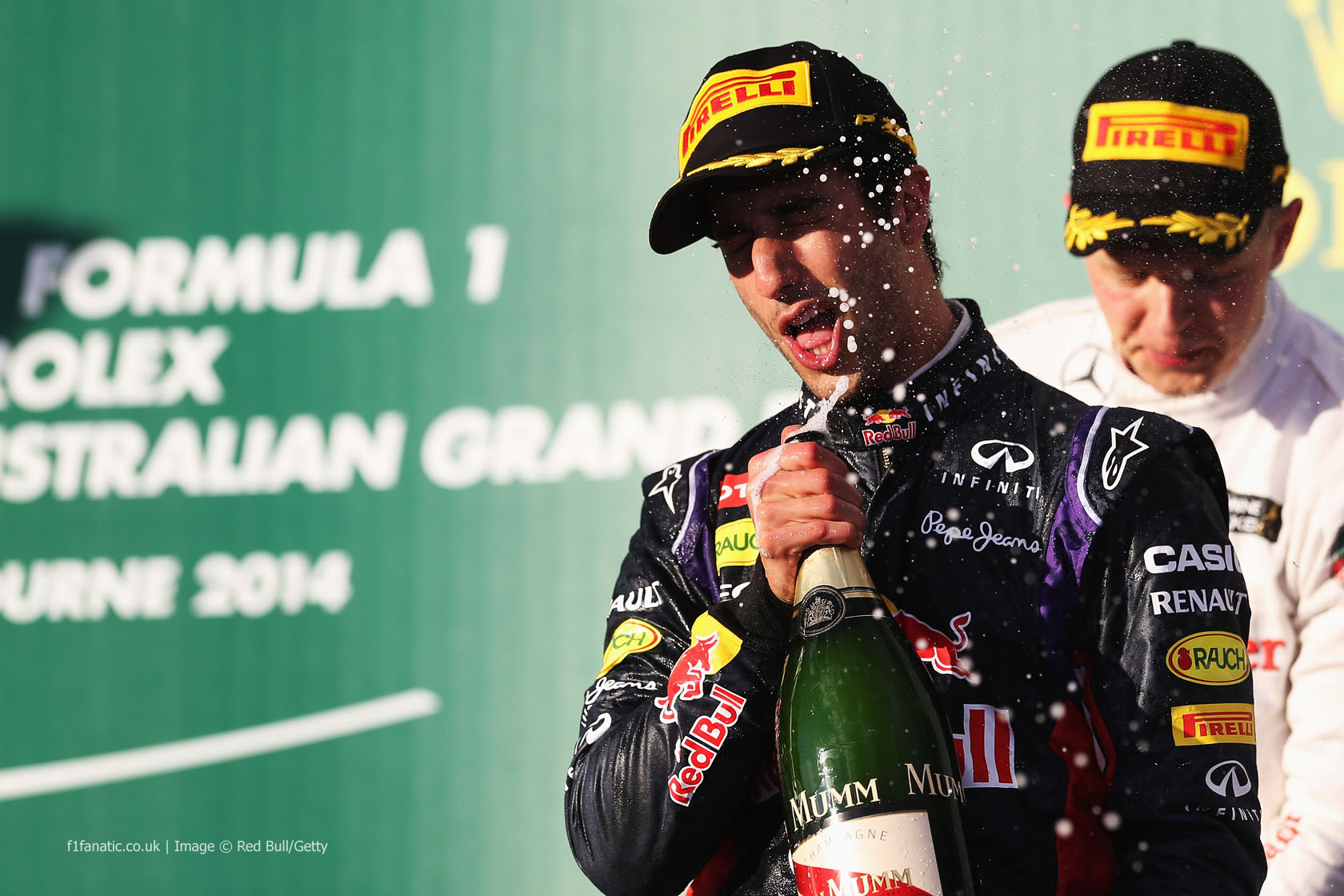 Daniel Ricciardo has been disqualified from the Australian Grand Prix, a race in which he secured his first podium in Formula One in his first race for Red Bull at his home Grand Prix in Melbourne.
The car failed it's technical inspection after the race after it was found that the RB10 exceeded the maximum amount of fuel allowed to be consumed during the race.
The limit on peak fuel consumption is 100kg per hour, a new rule introduced for the 2014 season. The stewards confirmed Ricciardo's exclusion from the race results after more than five hours of deliberation.
Red Bull immediately announced their attention to appeal and released the following statement:
"Following the decision of the FIA that Infiniti Red Bull Racing is in breach of Article 3.2 of the FIA Formula One Sporting Regulations and Article 5.1.4 of the FIA Formula One Technical Regulations with car three, the team has notified the FIA of its intention to appeal with immediate effect.
"Inconsistencies with the FIA fuel flow meter have been prevalent all weekend up and down the pit lane. The team and Renault are confident the fuel supplied to the engine is in full compliance with the regulations."
Ricciardo's exclusion means that Kevin Magnussen moves up to second place in the race and therefore sets the record for the highest position achieved by a rookie driver in his first Grand Prix. Team-mate Jenson Button moves into third and increases McLaren's lead in the constructors championship by 3 points. In contrast, Red Bull are now last in the constructors championship with Sebastian Vettel having retired from the race.
2014 Australian Grand Prix final results:
| | | | | |
| --- | --- | --- | --- | --- |
| POS | Driver | Team | Points | Grid |
| 1 | Nico Rosberg | Mercedes | 25 | 3 |
| 2 | Kevin Magnussen | McLaren | 18 | 4 |
| 3 | Jenson Button | McLaren | 15 | 10 |
| 4 | Fernando Alonso | McLaren | 12 | 5 |
| 5 | Valtteri Bottas | Williams | 10 | 15 |
| 6 | Nico Hulkenburg | Force India | 8 | 7 |
| 7 | Kimi Raikkonen | Ferrari | 6 | 11 |
| 8 | Jean-Eric Vergne | Toro Rosso | 4 | 6 |
| 9 | Daniil Kvyat | Toro Rosso | 2 | 8 |
| 10 | Sergio Perez | Force India | 1 | 16 |
| 11 | Adrian Sutil | Sauber | 0 | 13 |
| 12 | Esteban Gutierrez | Sauber | +1 Lap | 20 |
| 13 | Max Chilton | Marussia | +2 Laps | 17 |
| 14 | Jules Bianchi | Marussia | +8 Laps | 18 |
| 15 | Romain Grosjean | Lotus | Retired | 22 |
| 16 | Pastor Maldonado | Lotus | Retired | 21 |
| 17 | Marcus Ericsson | Caterham | Retired | 19 |
| 18 | Sebastian Vettel | Red Bull | Retired | 12 |
| 19 | Lewis Hamilton | Mercedes | Retired | 1 |
| 20 | Felipe Massa | Williams | Retired | 9 |
| 21 | Kamui Kobayashi | Caterham | Retired | 14 |
| 22 | Daniel Ricciardo | Red Bull | Disqualified | 2 |
By Jordan Groves
Formula 1 correspondent for RTR Sports Marketing - Sport Sponsorship Agency