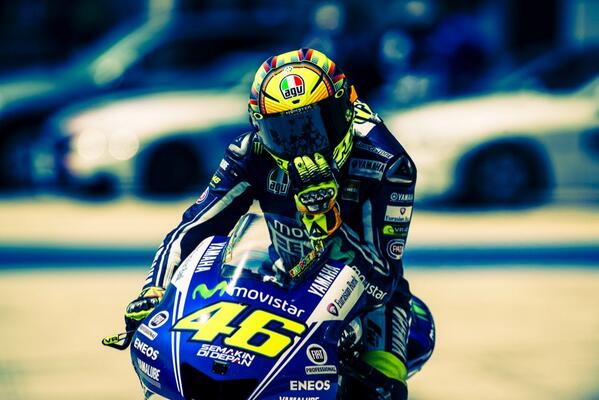 Valentino Rossi has always been the biggest crowd drawer in MotoGP and lay claim as the greatest motorcycle rider of all time. In this series of articles, we analyze what would constitute his decision after the sixth race where he acknowledged to make one regarding his future in premiere class of racing.
The weekend at the Circuit of the Americas (COTA) didn't go well for Valentino and his team. Struggling all weekend with setup and tire problems while also losing out on top speed against the factory Honda and Ducati. Adding that the track was more suited with the hard accelerating , stop and go strengths of the Honda.
Valentino have had a poor start, starting from sixth in the grid, he was relegated to 9th place after getting a bit unsettled when his teammate Jorge Lorenzo made a very erroneous jumpstart. The first three laps though showed what Valentino Rossi was capable of, overtaking Bradley Smith, Andrea Dovizioso, Stefan Bradl, and Cal Crutchlow in a masterful way that he is known for. For a brief time, he tried to keep pace with Andrea Iannone, but after a few tries in passing the Italian, Rossi would have some problems with his front tires. Lacking in edge grip, he relegated his position to Dovizioso, Bradl, Smith and Pol Espargaro. Having no option to challenge for any higher position, he rode his M1 more cautiously up to the finish line, finishing in eighth place and getting those precious championship points.
This setback may have leveled down Valentino Rossi's desire to re-sign with Yamaha for two more seasons. In one side, he knows that he can still match the pace of the upcoming stalwarts, but against the established duo of Marc Marquez and Dani Pedrosa, he knows that his bike needs to improve. His baseline of improving, as he has previously mentioned is being able to match the pace of his teammate, Jorge Lorenzo. With Lorenzo needing to do a ride through penalty, paired with the tire problems he experienced, Rossi did not have a benchmark to check whether his time has improved.
Nonetheless, the skills that Rossi has exhibited in making those overtaking moves in the early stages of the race should boost his confidence that he can still challenge for the podium every given race. But at this point in time, Rossi's aim is not just to win some races but be declared a champion. He has done it before and with renewed faith in his team, he knows he is capable of doing it again.
The next race at Argentina in a week's time would provide a lot more glimpse of Rossi's desire to sign back with Yamaha. In his mind, the race at the Texas circuit was already a setback even before they lined up at the grid, given the track played to the strength of the Honda. The positive thing to note though is he knew he could have had a chance to finish at the podium if not for his tire problems.
At this point, judging from his performance the past two races, Rossi's chances of signing again for another season or two is at 7/10.