Joan Barreda and Paulo Gonçalves commanded the fourth special of the Dakar Rally – the first part of the gruelling marathon stage – and are now well-placed at the head of the general standings. Metge, Brabec and Ceci finish well too.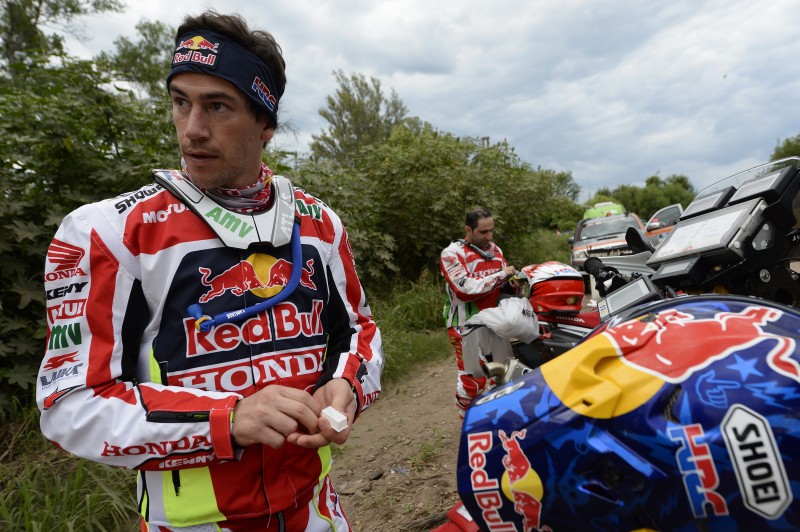 Another day of superb results for Team HRC at the Dakar Rally 2016, clinching first and second places in a demanding fourth stage. As the race ended it was time to immediately hand over the bikes, which will spend the night isolated in the parc ferme away from the mechanics, technical crew and even the riders, who are prohibited from repairing or servicing them. When the bikers pick them up tomorrow they will find them in exactly the same condition in which they were left.
Joan Barreda was yesterday lumbered with a one-minute penalty for speeding in a radar control, which meant the Spanish whizz was stripped of his first place in both the stage result and the overall rankings. Barreda started today from fifth place which allowed him to chase down the adversaries up ahead.
Barreda and Paulo Gonçalves once again imposed their infernal pace throughout the more than 400 kilometres of special stage today which took place at an average of 3,500 metres altitude in the Jujuy region. The Castellon rider was soon at the head of the course, crossing the line with a 1'49 surplus over his team-mate. Both now lie top of the overall race table.
Frenchman Michael Metge and American Ricky Brabec, turned in very swift performances to collect seventh and ninth spots respectively, just over seven minutes behind colleague Barreda. Italian Paolo Ceci finish sixteenth and climbs various slots on the leaderboard.
Once again, the top rider from Honda South America Rally Team was local-boy Kevin Benavides. The youngster opened the track today after becoming yesterday's winner due to Barreda's sanction. This marks a new milestone for Argentinean motorcycle racing. Benavides set a hasty pace and posted the day's fourth fastest time. His HSA Rally Team companions were among the top 35 finishers with fellow Argentinean Javier Pizzolito 28th, Frenchman Adrien Metge 32nd and Brazilian Jean Azevedo 35th.
At the close of the day, the ASO has once more verified that Joan Barreda broke the speed limit at several radar checks and have once again penalized the Team HRC rider, this time with a five minute sanction which means the Spaniard again misses out on the stage victory and drops to third in the general standings. Team HRC's Paulo Goncalves has been named winner of this, the fourth stage and is now the overall leader.
HONDA PRESS RELEASE