Valentino Rossi has always been the biggest crowd drawer in MotoGP and lay claim as the greatest motorcycle rider of all time. In this series o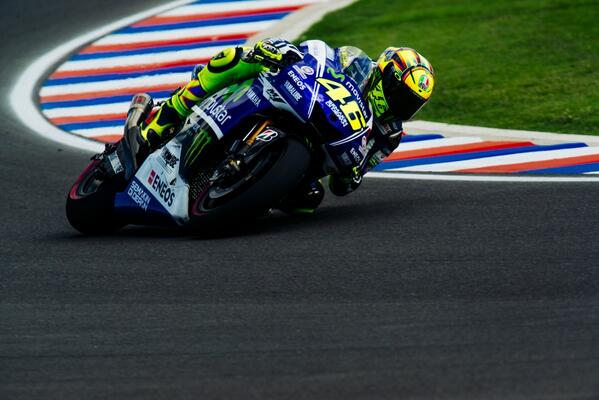 f articles, we analyze what would constitute his decision after the sixth race where he acknowledged to make one regarding his future in premiere class of racing.
A disappointing race
Another race weekend has gone and Valentino Rossi's result was far from impressive. Fourth place. For someone racing at his age and as many say, past his prime, this was still something to relish. Battling it out with the current top riders in MotoGP is a daunting task.
There's a lot of reason why Rossi only managed to finish fourth. Marquez is riding so well that perhaps, not even Valentino in his prime could manage to overcome the raw talent of this young Spaniard. Add the fact that Honda has managed to make the bike work well under different conditions, and perfectly adapting to the Bridgestone tires. Physically, mentally and technically, he couldn't match up with the reigning premiere class champion.
Taking second is Dani Pedrosa, another factory Honda rider. His win and overtake on Jorge Lorenzo demonstrates the superiority of Honda over the Yamahas in all angle – speed, braking, corner entry and electronics.
Third place was taken by Valentino's factory Yamaha teammate, Jorge Lorenzo, who lead for half of the race but eventually relinquishing his position against the faster Honda riders. Lorenzo acknowledges that their equipment is certainly no match to the Honda and it would need a lot of tweaking in their garage to even dream of taking a win away from the other Japanese manufacturer.
Finishing fourth place in this race though should help lean Valentino's decision further to signing again with Yamaha. His best lap times were much faster than his own teammate and if he did not made those mistakes in the early stages of the race, he could have secured another podium finish. But after losing some places and having to battle back to regain fourth position, both tires and time ran out of him.
The other positive takeaway for Valentino Rossi, is that he knows that ditching long time friend and chief mechanic, Jeremy Burgess for Silvano Galbusera is paying some dividends now. He is riding faster and can tweak his motorcycle to better adapt his riding style. Such decision means that Rossi is in business, and he wants to regain the prestige again of winning some races and perhaps the championship.
The current level of talent in MotoGP may overshadow the progress with which Rossi and his Yamaha garage are making, but it is becoming pretty clear that Valentino is getting closer to the top guns in MotoGP. His target this year is to get closer to the top and try to challenge for wins and podiums. He is on track to achieve those. Next year would be to battle out for wins and perhaps the championship. He can only do that if he signs again with Yamaha. This stage adds more fuel to the fact that Rossi will sign again and has increased the probability to 8/10.