Valentino Rossi has always been the biggest crowd drawer in MotoGP and lay claim as the greatest motorcycle rider of all time. In this series of articles, we analyze what would constitute his decision after the sixth race where he acknowledged to make one regarding his future in premiere class of racing.
A second youth?
Lemans. France. For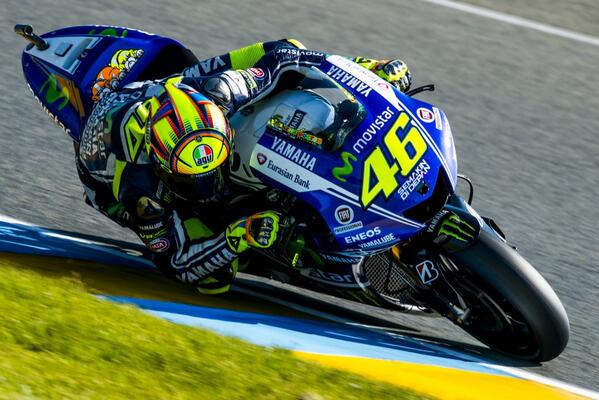 a few laps, Valentino showed a resemblance of his old self when he was willing his bike to ride the line he wanted to. To cover the tracks which would give him the best possible position to overtake and make his move. For a few laps, Valentino looked like the young Valentino – fearless and motivated to claim his throne at the front of the track. For a few laps , Valentino was leading the race.
This race at the French circuit may have easily provided Valentino the clues and the motivation he needs to continue his future in the premiere class of motorcycling. Recall that prior to the start of the season, Valentino has been asked numerous times what would be his options in MotoGP. He usually pointed out that he would make his decision based on the outcome of the races, and the changes he has made in his team. His desire to win was very evident that he sacrificed his relationship with long term mentor Jeremy Burgess. Rossi felt that doing this would pave the way to infuse some fresh insight to make him competitive and faster on the bike. He altered his riding style to suit the Yamaha which has been designed as of late to focus on Jorge Lorenzo's smooth riding and corner speeds. He humbled himself and accepted the fact that before the year started, he is considered to be the fourth best rider in the grid, only following reigning champion Marc Marquez, Jorge Lorenzo and Dani Pedrosa.
But the results this year tells a different story, and what could be hailed as the spark that would make him decide to stay in MotoGP. Placing second three times (Qatar, Jerez and Lemans), finishing sixth in Texas and fourth in Argentina, he has been fast and consistent and at the same time enjoying himself. A very far cry from the eventual years while he was at Ducati. He has been riding his bike with more ease and excitement, being able to place his bike wherever he wants on the track. Valentino is also doing a lot more of his overtaking maneuvers which he is known for, braking a lot later and taking the track lines which he previously shunned. In short, Valentino is back to his old self – full of enthusiasm, free spirited and competitive. The only thing that cannot be reversed at this point is his age.
Another thing going on for Valentino at this stage is that his aim of being as fast as his teammate, Jorge Lorenzo, has been realized. Many can point out that Lorenzo though is having a dreadful season, but race statistics and results show otherwise that indeed, Valentino is getting better than his teammate at the Yamaha garage.
Valentino Rossi knows that the odds of him beating reigning champion Marc Marquez at this point is very unlikely, but he is clearly enjoying the competition with the youngster. But this motivation will surely lean the favor towards him re-signing with Yamaha for the next couple of years. Paddock rumours abounds suggesting that Valentino is already in negotiations and talks with his factory team to extend his contract for two more years.
At the end of the day, Rossi's decision will surely be based on him knowing that he can compete and win races. He has a solid team in place, his riding is reminiscent of the rider who ruled MotoGP in the last decade and his body language speaks of volume his desire to win. We should be seeing The Doctor for two more seasons in MotoGP.