On their way to Australia for the second MotoGP test of 2016, Marc Marquez and Dani Pedrosa made a stop in Indonesia, for the official presentation of the Repsol Honda Team and the new RC213V, which they'll campaign during the 2016 MotoGP World Championship.
The Repsol Honda Team met in Jakarta on Saturday with the Sport and Youth Minister of Indonesia, Mr. Imam Nahrawi, and had fun playing a futsal tournament with the journalists and the Minister, who confirmed the plan to hold a MotoGP round here in Indonesia in the near future. Today, at Sentul International Circuit Marc and Dani, together with HRC Executive Vice President Shuhei Nakamoto and Team Principal Livio Suppo, unveiled the 2016 RC213V in front of the Indonesian fans.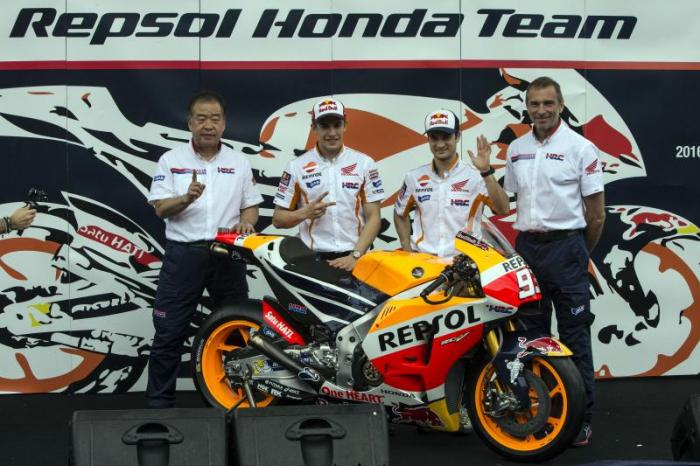 This marks the second consecutive year that the Team has held its official launch in Indonesia, where the passion for MotoGP is incredible. The spectacle for the fans was even greater at this year's edition, as event-host Astra Honda Indonesia capitalized on the occasion to present their 2016 racing activities and officially launch the new Honda CBR150R, which Marc and Dani rode on the Sentul track, much to the enjoyment of the cheering crowd. Afterward, the Repsol Honda racers met the fans during a signing session before continuing their trip to Australia, where the track action will resume at Phillip Island February 17-19.
Marc Marquez
"It never ceases to amaze me how much people unconditionally love and support MotoGP here in Indonesia, so it has been an honour for us to officially unveil our RC213V at the Sentul Circuit today and to meet so many fans on the occasion. Now we go to Australia and I'm looking forward to continuing our work on the new engine and the new electronics. We made a few steps in the right direction over the three days at Sepang but we need to make some more at Phillip Island. I'm confident the HRC engineers and my team will come up with more improvements as we get used to the new software."
Dani Pedrosa
"Today we had our team launch and I feel very proud of having been part of the Repsol Honda Team for my entire career in MotoGP. This year I'm physically feeling in good shape and I'm eager to start the new season. We are facing many changes and we have a lot of work to do but I'm looking forward to it. Here at Sentul our supporters made us feel so welcome and supported and we had a good time riding the CBR150R. It has been a great boost in view of the next test at Phillip Island. I'm happy this year we are testing at three different circuits in such different weather and track conditions; I think it will be very useful to help us to better understand the new engine, electronics and tyres."