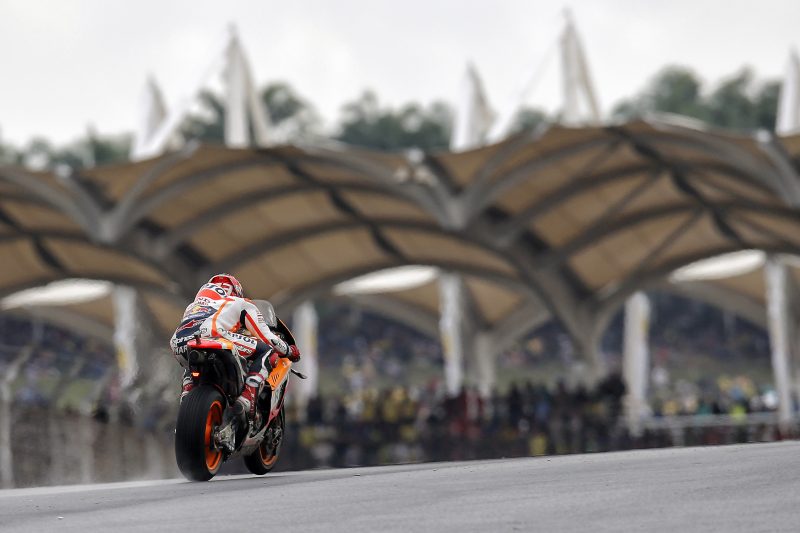 A torrential downpour just before the start of the MotoGP race caused a 20-minute delay and played a key role in today's race at Sepang. Marc Marquez was one of the victims of the tricky conditions as he crashed out of a battle for the podium and had to settle for 11th place at the finish.
The reigning World Champion got off well at the start and ended the first lap in fourth position. He stuck close to the three front riders, comfortably matching their pace while the track was slowly drying and avoiding pushing too hard, in order to preserve the tyres for the final laps.
Unfortunately, while chasing eventual race winner Dovizioso on lap 12, Marc crashed in turn 11. He bravely re-joined the race and recovered from 15th to an ultimate 11th-place finish.
Hiroshi Aoyama had a complicated race as he didn't start well and got stuck in traffic. He found himself in last position after the first lap and recovered a few spots to finish 16th.
Marc Marquez
11TH
"Today was a difficult day. In the morning the weather was already unstable and finally the race was in the wet. Before the start I decided to use the carbon disc brakes, which gave me the chance to be stronger in braking. It was the right choice and it has nothing to do with my crash. At the beginning of the race I was riding quite comfortably in the leading group, trying to save the tires for the end of the race, but suddenly I crashed by losing the front at Turn 11. I thought I had a chance to finish on the podium here, but it was not to be, and it is better that this happens now that we already have the title. This experience will help us for next year and helps us appreciate the World Championship even more."
Hiroshi Aoyama
16TH
"It was a rather tough race. When it started raining heavily, I think I could have finished in a better position, but unfortunately I had traffic in front of me for a few laps. When I passed Rabat, it was too late to catch the riders ahead. At first there was plenty of water on track and I could barely see what was ahead of me, so I couldn't overtake. After a while, I saw that the sun was beginning to come out and I decided to push a little more, but my situation was not easy. This weekend the team worked very hard to get me comfortable and provide me with the best bike possible. I'm very glad to have been able to ride for the Repsol Honda Team, I thank the team again for the chance and hope that at the next race Dani can return."