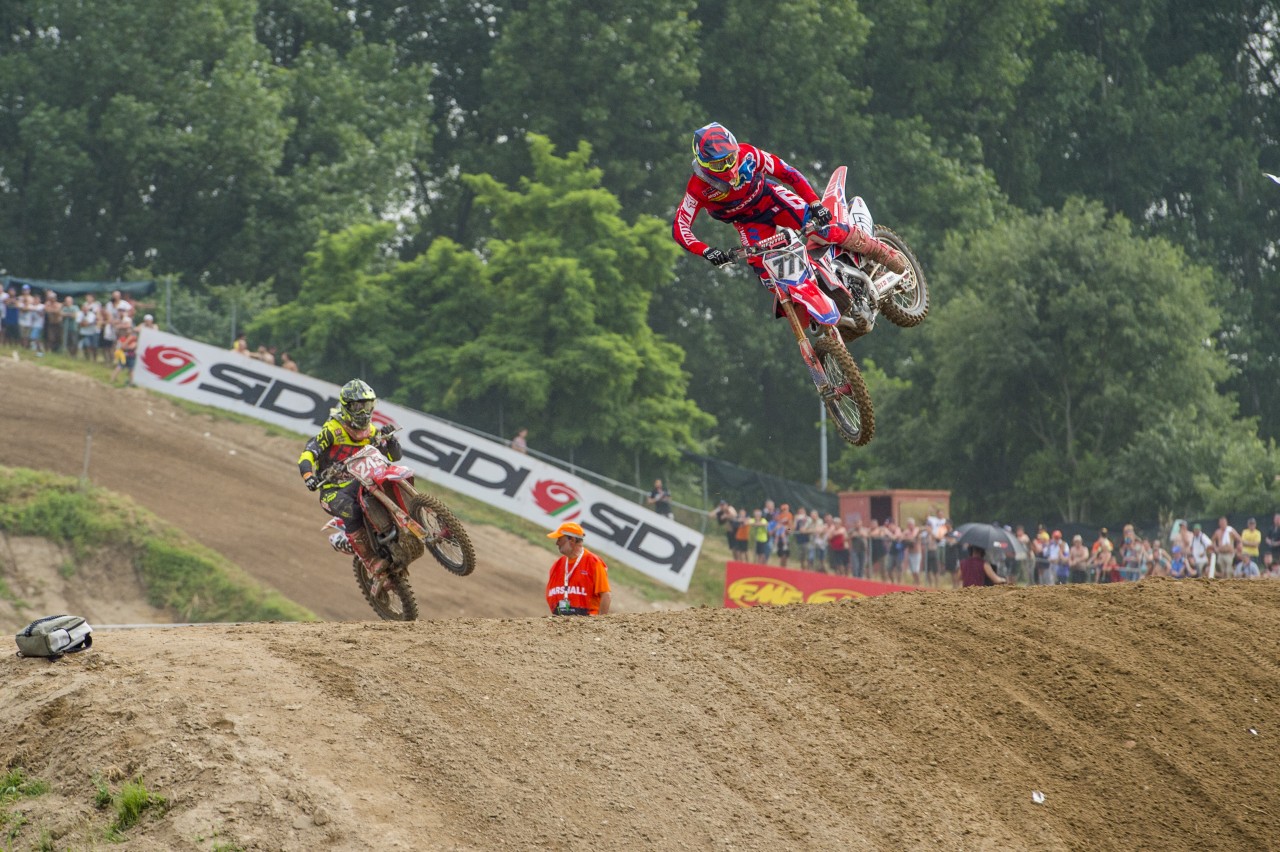 Evgeny Bobryshev and Gautier Paulin will return to MXGP action this weekend at Loket for the MXGP of Czech Republic; round 13 and the first after the series' summer break.
Honda's recent run of form has been impressively strong with four double-podiums from the last four Grands Prix, giving the Japanese marque a 58-point lead in the Manufacturers' standings.
Last year Loket was also a fruitful event for Bobryshev, who brought home the silverware with a pair of seconds for second overall, as he did also in 2015, plus a holeshot and fastest lap. Since Mantova, the Russian has reclaimed his Dutch Championship title, so he's looking to be a strong contender this weekend.
Gautier Paulin also brought home silverware of his own last time out in Mantova, with second overall. He's been working hard during the break, including racing in the French Championship last weekend in preparation for the re-start of the MXGP season.
The MXGP of Czech Republic is held in the west of the country, and represents the first of a trio of back-to-back races as the season starts to near its finale. Track action gets underway on Saturday 23 July with practice and qualifying, and the races start at 1415hrs local time on Sunday.
Evgeny Bobryshev 777
"After Mantova I took five days off and went to the lake to enjoy time with the family, but then it was straight back into it. I went for the two last races of the Dutch Championship and secured my title again so I'm Dutch Champion for the second time, and since then I've just been riding and training. The first week I wasn't pushing so hard and just enjoying riding the bike, and then last week I was on my full race programme again preparing for Loket. It was nice to have three weekends off actually. The season is long so to have this break I think is really important and helpful for your mind and body.
"It's strange for me because I don't really prefer the ground at this track because it's stony and slippery, but I get on with it fine actually. Everything is about the start because I'd say the track is one-speed. If you lose at the start, you can't do much about it and it's very difficult to come back. I would say it's 80 per cent of the race at this track."
Gautier Paulin 21
"Since Mantova we've been working hard in testing and training, and I also raced at Iffendic which was great to see so many French fans and supporters out. We've been working hard in testing with my team to keep improving and to keep finding the little adjustments that will help us for this weekend, and I've been working hard on myself for my physical condition so I'm feeling ready for this second part of the season."