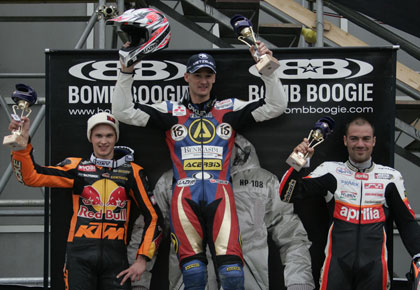 Project Info
Client:
Space 2000 – Bomboogie
About Project
Bomboogie, a well-known brand of street and casual wear aimed at a young, dynamic target, is one of the brands of the Turin-based company Space 2000.
Already partner of the Motor Show for the last three years, the brand has confirmed the association with Bologna's Salone internazionale dell'Automobile (International Automobile Showroom) for 2006 too, counting on a surefire return in terms visibility: the 2005 show saw over 1.181.323 visitors come through the doors of the Motor Show and 436 exhibitors, from 19 countries, chose to take part in the event.
Bomb Boogie will dress the entire staff of the Motor Show 2006 as official showwear and will be Title sponsor of some of the event's most exciting races: Bomb Boogie Eurotouring, Bomb Boogie Xtreme Supermotard and Bomb Boogie Gran Turismo Challenge, involving the top racing drivers from the Gt series. Its logo will be on view on advertising hoardings, towers, totems and prize-giving backdrops.
The association between the clothing brand and the queen of motor shows by now is based on tried-and-tested synergies and on perfectly shared goals: it is enough to consider that the profile of the Motor Show's visitors (prmarily men between 17 and 34 years of age), coincides perfectly with Bomb Boogie's target, allowing it to carry out a brand promotion operation which is targeted and on a large scale.
RTR for the fourth consecutive year has promoted the partnership between Bomb Boogie and the Motor Show, developing the strategy that best fits the needs of the company.