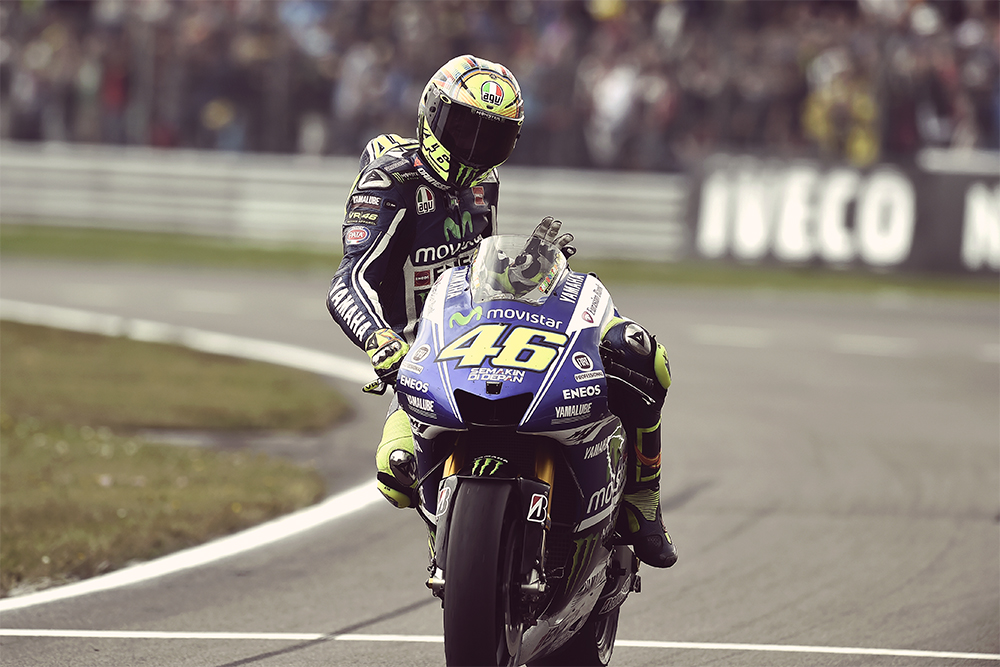 Movistar Yamaha MotoGP's Valentino Rossi rode impressively saturday afternoon to take fifth during an unpredictable race at the Assen TT. Teammate Jorge Lorenzo briefly led the race, but later fell back after a tyre change, finishing in 13th place.
There was uncertainty before the start of the Dutch GP, with the riders already on the starting grid when the race was delayed due to the rainy conditions. It was finally declared a wet race and two extra sighting laps were given.
Rossi initially went out on slicks but decided last-minute to change to wets after the warm-up lap. Though this meant he had to start the race from pit lane, the setback didn't hold him back for long and he was quick to move up the order, reaching 13th by lap three. At the end of lap six chaos ensued again as the track started to form a dry line and half of the riders came into the pits for another tyre change. Rossi dived into the pits with the first group, rejoining the race in tenth position. He was quick to find a good rhythm and closed the gap of 2.325s to Pol Espargaro, Carl Crutchlow, Alvaro Bautista and Stefan Bradl over the next six laps. The Doctor then only took another three laps to move up to fifth place. He was consistently closing on Aleix Espagaro in fourth, but there were not enough laps, leaving him to hold fifth at the line
Teammate Jorge Lorenzo had a good start, the Spaniard moving up from ninth to sixth in the first lap. Having found a good wet pace, he threatening to break into the top five when changing weather again disrupted the race. Lorenzo made the change to a dry bike and having returned in 17th was able to move up several positions to 13th by the flag.
With fifth place Rossi scores 11 points and is now tied for second place in the championship with Dani Pedrosa, 128 points behind Marc Marquez. Jorge Lorenzo gains three points, leaving him in fifth in the championship standings, ten points behind Dovizioso in fourth.