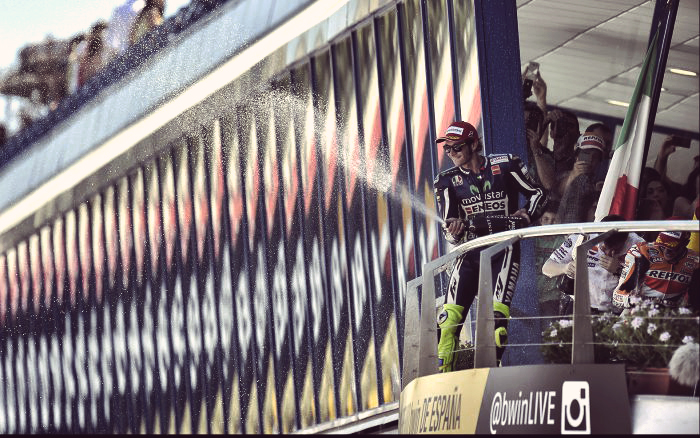 Movistar Yamaha MotoGP Valentino Rossi put in a stunning effort today to take the second step on the podium for the Gran Premio de España at the Jerez circuit in Southern Spain. A record crowd of 117,000 people were present to witness the Doctor's fight for his second podium honours of the season in extremely hot conditions with track temperatures reaching 50 degrees.

Starting from fourth on the grid the nine-time world champion had jumped to third by the first corner and second swiftly after as he chased down race leader Marc Marquez. Two laps of tense drama then followed with the two rivals swapping leads as they pushed each other to the limits. Marquez emerged the front-runner as the race settled with Rossi following close behind. The Italian was unable to match the race leader's pace but was able to stay ahead of the chasing riders. As the last laps ran down Dani Pedrosa closed in to challenge for second but with the gap dropping to just two tenths of a second Rossi held on for a well deserved second place.

Teammate Jorge Lorenzo's 200th Grand Prix race had a less than perfect start as he dropped from second to fifth off the line. The local hero was quick to recover, taking two positions to slot into third behind Rossi and join the drama filled opening laps. With 16 laps to go Lorenzo was still able to maintain a half second gap to his teammate in front however the distance began to slowly increase as his grip levels began to drop dramatically. With six laps remaining he could no longer hold off following rider Pedrosa, dropping to a lonely fourth place that was his to the line, nearly 20 seconds ahead of Andrea Dovizioso in fifth.

Rossi remains in third position with his podium finish, now on 61 points and 11 behind Pedrosa in second.Lorenzo's fourth place finish moves him up two places in the standings to fifth with a total of 35 points, ten behind Dovizioso in fourth.

The team now enjoy a well-earned two-week break before heading to France for the Le Mans race on the 18th May.