"Give a child a sheet of paper, some paints and ask him to draw a car, he will surely make it red."
One of the famous phrases of the great Enzo Ferrari, not just anyone. That the great Old Man of world motorsport was a lucid visionary there is no doubt, and it is from the intrinsic meaning that quote carries that the ideas and imagination of the marketing men who have approached motorsport have developed over the decades.
Aesthetic -and chromatic- impact has always had an important relevance in the imagination and memories not only of Motorsport fans but also in casual viewers of the images that fill screens, displays and print media.
If one were to take a test asking people to think of a black Formula 1 car, the image of a Lotus JPS would surface in the minds of a great many. Certainly the enthusiast would remember the name, the year, the model and the drivers who drove it, while others would only remember the photograph of the car but still the same one.
As I was gathering ideas to write these lines, memory brought up photographs of cars and motorcycles that were confined in a drawer, untouched and ready to reappear suddenly. Memories of a child and teenager observing the objects and men of this magnificent sport, dreaming of being able to experience and meet them even though they were distant but close at the same time, brought inside the home walls by TV or posters of Autosprint e Motosprint I used to hang everywhere. Memories of historic associations that no longer exist today resurfaced, but which marked the memory of so many to the point of being able to recognize a hero of eras gone by even just the color of the car and the name of the main sponsor who colored the car or motorcycle of their Champion, their idol.
This was the insight of those who chose to Convey their image and brand through the desired racing items and loved by the general public since the early 1970s. The photograph etched in memory along with the name of the hero wearing the "uniform" of the sponsor and conveys the name of the same in the fan's imagination.
It then went from cars lined up in national colors and a few stickers from technical partners up to "customized" cars with sponsor lettering and logos. Nothing could be simpler than to create a kind of "traveling billboard" that allowed it to enter anyone's home through TV and print media, with great effectiveness from a communication point of view.
The most active pioneers were the tobacco companies who began to cover the entire body of racing items to the point of having them made in their own corporate colors. Their financial possibilities paved the way for teams, increasingly in need of budgets in a sport that was becoming increasingly expensive, to identify their creatures as classic cigarette packs. And hence the splendid liveries of Lotus Jps, McLaren Marlboros, Ligier Gitanes, as well as Yamaha Gauloises and Honda Camel in MotoGP and on and on until international laws severely restricted and then banned advertising in this regard. But the 1970s, 1980s and 1990s are emblematic in this regard, to the point of tying the image of drivers and teams to a brand whenever thoughts return to them. And so if you think of Lotus you think of Jps to Fittipaldi, Andretti and Elio, if you think of Senna you think of Marlboro, if you think of Porsche Endurance you think of Rothmans.
Examples can be countless, but there is also no shortage of goodies such as the Hesketh with the Penthouse pin-up drawn on the bodywork…Never could it have been more apt than the juxtaposition with James Hunt….
Memories also bring to mind a special McLaren with red parts painted gold in 1986 driven by Keke Rosberg in the Portuguese GP, an experiment to advertise the Light version of the sponsor that was, however, abandoned because it was not very telegenic.
Flair and imagination enlightened the BAR men in the late 1990s when they managed to run their single-seater painted for the left half in Lucky Strike colors and for the other half in 555 colors.
And so going on to move on to the more famous and long-lived partnerships that have enabled collaboration in various disciplines such as the all-Turin-based Lancia and Martini's which saw in white stripes both the World Endurance cars of the early 1980s and, especially, the dominant Lancias of rallying. To this day, the images of those dream cars downloaded from the Internet or admired in museums have a "return" for sponsors linked to those exploits and are a draw for every racing fan.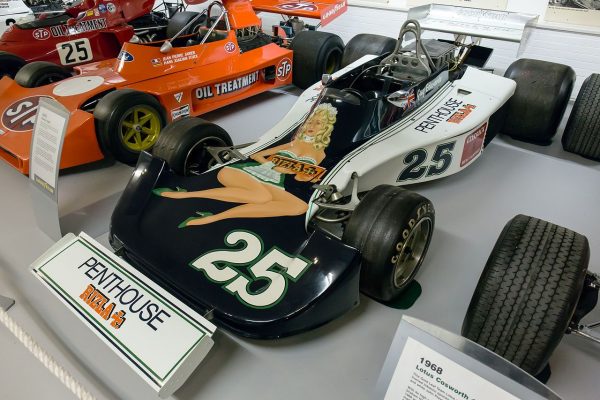 The whole concept can be turned over to the motorcycle world, where it is perhaps even more ingrained. Motorcycle manufacturers often have special, limited versions of their Maxis in replica colors in their catalog, as well as even just limited replica series of a rider in a particular period. Examples of this are mainly Italian houses such as. MVAgusta with versions dedicated to Agostini, Aprilia with Rsv Mille replica Edwards and Haga in RsCube MotoGP colors, Ducati with versions Bayliss and the new Panigale V4 series with replica colors of Foggy's first 916.
In the motorcycling scene, such identification is even more pronounced because of the possibility of customizing one's bike with the colors of one's idols at a much lower cost than customizing a car can be. In this case, there is also the aesthetic feasibility that makes identification easier: it is one thing to customize one's SUV with the colors of a historic sponsor and then drive around in it; it is another thing to do it with one's track bike rather than a walking bike.
The identification of the motorcyclist with his or her hero is even easier because of the need to also have thedaily technical clothing that the car does not provide. Wearing a replica suit or helmet makes your champion feel tremendously closer, makes you empathize with it at least until you get on the bike itself.
Who doesn't remember the yellow/black Yamaha of the first Kenny Roberts (the real one), the Rothmans Honda of Spencer and Gardner, Rainey's Marlboro Agostini Yamaha, Schwantz's Pepsi Suzuki or Gallina/Uncini's Hb, to the Repsol or Monster Yamaha Hondas of the last two decades.
From here to creating merchandising items to outfit fans and simultaneously spread one's brand is a short step, and a profitable one at that. The writer is by no means immune to this phenomenon, because he is sick of both car and motorcycle racing and as such a living testimonial of what is described, owning replica helmets of both two- and four-wheeled racers, and branded technical clothing.
The purpose? None. Simply personal taste and admiration for so many of those who have filled an enthusiast's Sundays, who in an indirect way have become so many "imaginary friends" who come into your home and leave something tangible that constantly reminds you of their exploits and the emotions they aroused in you by admiring them.
Salvatore Valerioti – Redattore Blog del Ring